Westfall's World is FUNtastic
Westfall's World magic is perfect for all the school, corporate function which includes children, festivals, block parties, community events or any other functions aimed at family entertainment.
Fun-fairs & Festivals
Put the FUN in Fund-raising
Chris' popular brand of magic is perfect for all special events, fun-fairs, and fund-raisers at your school. Chris is nimble and dynamic, easily adapting his performances to match your needs.

Maybe it's walk-around magic at the bouncy castle line-ups. Maybe it's scheduled performances (complimentary or ticketed) for all your students, or the entire school community. Chris' show can be performed outside, or in the case of bad weather can be moved inside to save the day. 
School And Classroom Celebrations
Mark your milestones with magic
Chris Westfall's World Magic Show is perfect for all the school special occasions such as end of the year events and parties, specialty shows and graduation dances.    

"Magic in metaphors," are magic shows created to educate on specific topics for the students.  Topics include: bullying, environment, social media, and other topics.
After School Programs
Enhance your menu of after school programs.
Chris Westfall and associates will be there with a well-constructed curriculum, teaching groups of students how to build, perform, and present a magic show!

This program builds self-esteem and confidence for life. Learning and performing magic is a fun, unique and intriguing way to improve social skills. With magic kits they build themselves, these students will be "the stars" while performing for their friends and family.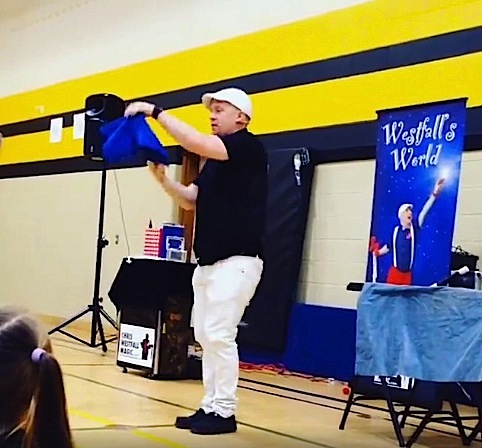 Contact Chris about Westfall's World...